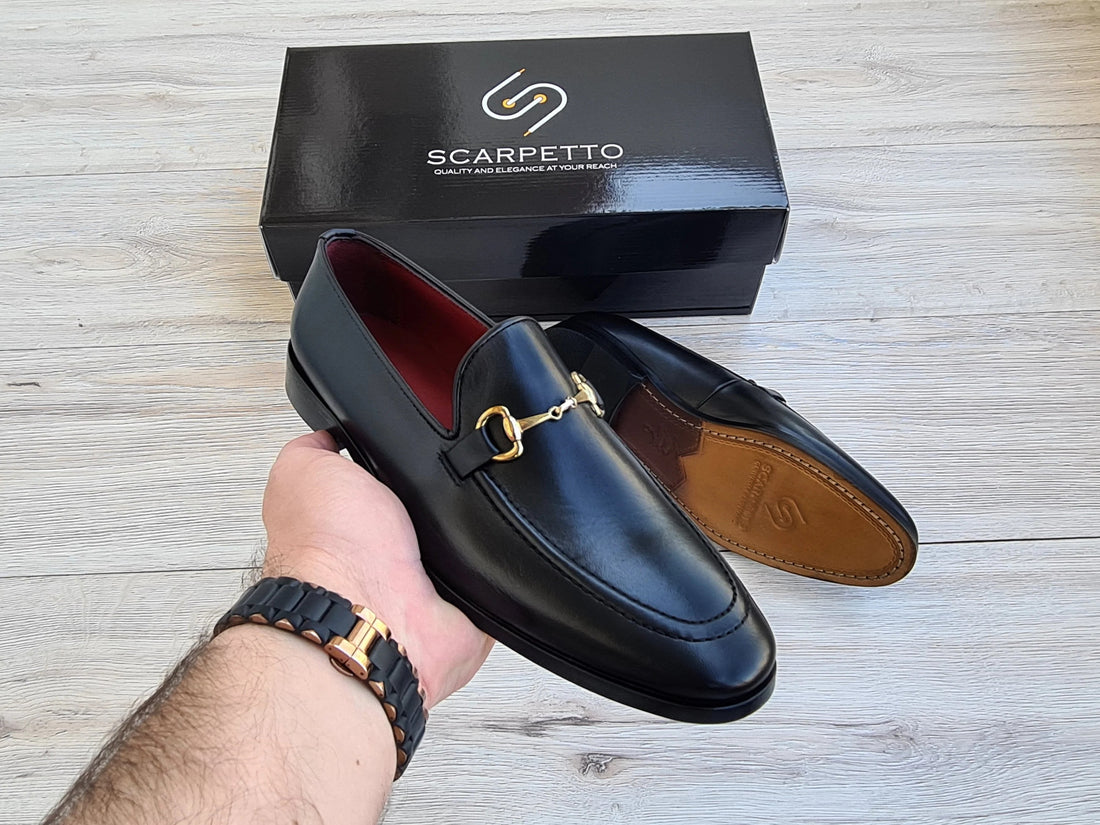 Get Genuine Leather Loafer Shoes from Scarpetto and Enrich Your Collection!
Among all the types of footwear, every man wants to have at least one loafer in his closet. Besides giving a classy look, these shoes help express the personality of that person too. But there are many men who don't have adequate knowledge regarding genuine leather loafer shoes. Throughout this article, we will discuss loafer shoes that are made up of the genuine leather of Scarpetto. So, read the article till the end and learn about leather loafers in detail. 
Which Characteristics Make Shoes a Genuine Leather Loafer Shoes?
Loafers are considered to be slip-on-styled shoes that are mainly constructed with leather or suede. The main characteristic of loafer shoe is it does not contain any kind of laces, fastenings, or any kind of closures. These are generally low-cut shoes that possess a flat heel and very thin leather soles. 
 A loafer is considered to be a shoe style in which you can easily slip your foot and start for your destination. 
 In the present day, loafers come with a plethora of styles and within that, you would get several colour options too. Its multipurpose usage can amaze you. You will be wondering knowing that these loafer shoes have become among the essential shoes that every man prefers to have and most importantly he needs too. In this regard, we can say that a man's closet is incomplete without a pair of genuine leather loafer shoes. 
 Usage of Genuine Leather Loafer Shoes 
 Loafers are slip-on shoes that are possessed with rounded toes. At present, loafers are in trend and everyone prefers to wear it just because of their comfort. These loafers can easily be worn with any kind of formal or casual outfit, as these loafers are made with several types of materials. You can easily pair these loafers with any kind of dress material. 
 History of Genuine Leather Loafer Shoes
 According to historical sources, loafer shoes were designed as a part of indoor shoes, but slowly and gradually they have taken a permanent position in men's closets. Now, these loafers can be worn both indoors and out for a various range of occasions. 
Different Types of Genuine Leather Loafer Shoes of Scarpetto 
Black Men's Genuine Suede Leather Loafers – Red Leather Sole
Premium Leather Handcrafted Men's Loafers
Premium Leather Men's Loafers
Men's Suede Leather Tassel Loafers
Leather Men's Loafers with Stone Details
Frangiato Croco Black Men's Leather Loafers
Black Men's Genuine Leather Dotted Loafers
Frangiato Croco Green Men's Genuine Leather Loafers – Leather Sole
Flecos Black Men's Leather Tassel Loafer
Men's Embroidered Patent Leather Loafers
Frangiato Croco Navy Blue Men's Genuine Leather Loafers – Leather Sole 
Men's Patent Leather Loafers – Lion Head Buckle
Croco Leather Men's Loafer
Men's Leather Loafers 
Premium Quilted Leather Tassel Loafers in Brown 
Premium Quilted Leather Tassel Loafers in Black
Black Men's Leather Spiky Loafers
Fragiato Croco Walnut Men's Genuine Leather Loafers – Leather Sole
Leather Men's Loafer with Stone Details 
Frangiato Croco Navy Men's Leather Loafers 
Frangiato Croco Black Red Men's Genuine Leather Loafers – Leather Sole 
Frangiato Croco Burgundy Men's Genuine Leather Loafers – Leather Sole 
BowTie Black Men's Leather Loafer 

How to Buy Genuine Leather Loafer Shoes from Scarpetto? 
If you are thinking of buying genuine leather loafer shoes, then you need to visit the official website of Scarpetto. As you visit the page, you will find a plethora of options of leather loafer shoes that come in various colour and designs. You need to choose a product and size too. If you are confused about the size, then must check the size guide section mentioned there. Now, you will get the payment mode. As you click on 'More Payment Options' you will find a page, where you need to add your email ID, detailed address where the item will be delivered, shipping method, and lastly, add your debit or credit card details, through which you want to complete your purchase. As your payment is done, you will get a confirmation message from Scarpetto, and your product will reach to your address within 1-5 days. 
Steps to Return Genuine Leather Loafer Shoes of Scarpetto
If you are not satisfied with the loafer shoes of Scarpetto, then you can easily return them. Scarpetto offers a free return policy and a full refund of your money if the loafers come in original condition. So, you don't need to worry anymore while purchasing leather loafer shoes from Scarpetto. 
Conclusion:
I hope after reading the article, you have got basic ideas regarding genuine leather loafer shoes provided by Scarpetto. If you want to know more about these loafer shoes or want to make a purchase, then visit its official website, i.e.  https://scarpetto.com/. 
 FAQs 
Q1. What are genuine leather loafer shoes?
Genuine leather loafer shoes are a type of footwear that is made up of real animal leather, typically cowhide, and designed in a slip-on style. They have become popular among men for their comfort, durability, and timeless style.
Q2. How to distinguish between genuine leather and synthetic leather?
Genuine leather has a natural grain pattern and texture, while synthetic leather often appears more uniform and plastic-like. You can perform a few tests, like feeling the texture, checking for imperfections, and inspecting the edges to determine if it's genuine leather.
Q3. Are genuine leather loafers more expensive than synthetic ones?
Yes, genuine leather loafers are usually more expensive than their synthetic counterparts. The cost is higher due to the quality of the material and craftsmanship.
Q4. Does Scarpetto deliver loafers outside the USA?
Yes! It delivers all its products internationally. So, wherever you are, can easily complete your purchase from Scarpetto.